Toledo Industrial Sewing Machines
Industrial Sewing Machine Motors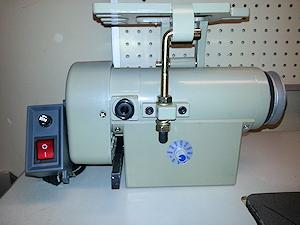 Specifications and Price
Family Sew FL-550 (formerly FS-550s)
Servo Motor with Brushes for more torque at low speed
Speed easily controlled by twist of knob
Smooth transition from 0 to 3600 RPM
110 volts AC, 550 Watts
3/4 HP output
Pulley: 2" standard; 3" on request
Includes switch & wires for easy installation
Quick Change Fuse
Belt Guard
Adjustable Belt Tightening System
Energy Saving
Extra fuse and brake pad
1 year warranty
$135.00 includes shipping in lower 48 states
Industrial sewing machines require much more powerful motors than domestic (home) machines, both for speed and the torque to power heavy duty mechanisms through various fabrics and skins. There are basically two types of motor used in industrial sewing machines: clutch and servo.
Clutch motors, preferred by garment and canvas sewers, are meant to operate at full speed. One must be able to "feather the clutch" to sew slowly.
Electronically controlled servo motors, preferred by leather crafters and holster makers, only consume power as they drive the machine and have more granular slow speed control than most clutch motors.
Toledo Industrial Sewing Machines stocks a variety of industrial sewing machine clutch and servo motors, including the much sought after Family Sew FS-550s servo motor, described on the right.
Call us toll free, at: 866-362-7397, to discuss your sewing machine needs and let us serve you.