About Toledo Industrial Sewing Machines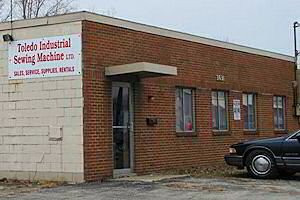 Toledo Industrial Sewing Machines is a limited liability company, registered in Toledo, Ohio in 1998. It is owned and operated by Bob Kovar Sr. and his Son, Bob Kovar III.
After a long layoff from an auto manufacturing job, Bob Kovar Sr. went to work for a local sewing machine company, from 1980 through 1996, where he learned to repair and rebuild all manner of sewing machines. It was during 1996 that Bob formed the Toledo Industrial Sewing Machine business, which he operated out of a pole barn for 10 years, until 2006.
Bob Kovar III began helping his Dad, Bob Sr., when the business was launched in the pole barn and Bobby was just 14 years old. He has been working with his Dad, since 1996, repairing, setting up and delivering industrial sewing machines.
The business is now located in a spacious 5100 square foot industrial building, on Marine Road, in Toledo, Ohio (see map page).
Toledo Industrial Sewing Machines, Ltd. is a member of the Whitehouse, Ohio Chamber of Commerce and has been on file with the BBB, with an A+ rating, since: Feb 13, 2006.
Call us toll free, at: 866-362-7397, to discuss your sewing machine needs and let us serve you.