Toledo Industrial Sewing Machines
Home of Cowboy Leather Sewing Machines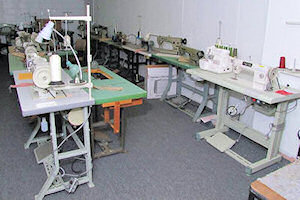 Our Mission
At Toledo Industrial Sewing Machines, LTD, our mission is to match our customers with the best sewing machines for their needs, at the most economical cost. We stand by our products and service what we sell.
We offer high quality and reliable machines, needles, thread and accessories for for all types of sewing operations. We are open 6 days a week: 8:00 AM - 4:30 PM, Monday through Friday, and 8:00 AM - 12 Noon Saturdays.
Bob Kovar Sr. - Owner
Call us toll free, at: 866-362-7397
Toledo Industrial Sewing Machines is the US dealer and service depot for the Cowboy® brand of industrial and heavy leather sewing machines. We also sell and service new and rebuilt industrial sewing machines and sewing supplies and accessories.
We sell many brands, including Adler, Chandler, Cowboy, Consew, Juki, Pfaff and Singer. Our warehouse contains thousands of miscellaneous commercial, industrial and home sewing machines, some of which may be just what you are looking for!
If you require a special type of sewing machine to perform a particular task, we will endeavour to match or customize a machine to your needs. We supply a complete range of sewing machines and accessories which are used in the automotive, canvas, marine, garment, tailoring, leather, harness and upholstery trades.
You can rely on us to service what we sell. We deliver within 100 miles of Toledo (sometimes farther) and can setup new machines on your premises and provide you with basic operating instructions.
If you live outside our normal delivery area, we ship machines by UPS, if within their weight limits, or by cartage truck for a palleted, complete machine, with a stand or table. We ship to all destinations in the USA and Canada.
Call us toll free, at: 866-362-7397, to discuss your sewing machine needs and let us serve you.