Toledo Industrial Sewing Machines
Consew 206RB-5 Walking Foot Sewing Machine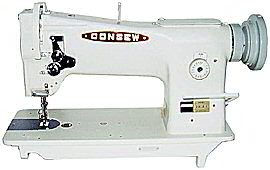 Specifications and Pricing
Model: 206RB-5
Flat bed Length: 10.5"
Maximum Foot Lift: 9/16"+
Max Sewn Thickness: 3/8"+
Needle: #135x16/17: #12-#25
Thread Sizes: #46 - #207
Bobbins: Large M style
Max Speed: 3000 spm
Max Stitch Length: 2.5 per inch
Reverse lever for backtack
1/2 Horsepower clutch motor
Optional servo motor: add $50
Industrial table on K-legs stand
Long neck gooseneck flex lamp
Accessories & upgrades available
$1295.00, plus shipping
Consew industrial sewing machines are built as tough as tanks and are capable of sewing medium density leather, heavy cloth, vinyl, webbing, bioplastic and other materials, with fairly heavy thread.
The Consew 206RB-5 stitcher, pictured here (click here for close-up of machine head), is capable of sewing up to 3/8" of soft to medium temper leather, with up to #207 bonded nylon or polyester thread.
The 206RB has a flat bed with 10 1/2 inches of inside clearance; ideal for sewing couch and seat covers, bimini covers, belts, webbing, denim clothing, coats, leather garments, wallets, book covers, and pancake style gun and tool holsters. It has a separate locking stitch length dial and a push down, adjustable reverse lever, which sews into the same holes in reverse. The machine uses the same inner and outer walking pressor feet as the Singer 111w155 and most other walking foot machines. There are many styles of pressor feet for particular jobs, like installing zippers, piping and edge binding. There are numerous accessory folders available for covering or finishing hems and edges, and for sewing piping into upholstery projects.
This machine features a semi-automatic oiling system for the hook and shuttle drive parts and centralized oil feed wicks for the upper moving parts. The machine has a large, horizontal axis rotary hook that uses a big M style bobbin. The bobbin shuttle has a push button reset safety clutch that disengages the bobbin drive mechanism - to protect the machine from jumping timing in the event the bobbin shuttle jams with loose thread.
Every new Consew 206RB-5 purchase comes complete with a 1/2 Horsepower clutch motor (optional gear reduction servo motor), mounted on an solid wood, industrial table and steel k-legs frame.
The Consew 206RB-5 has triple feed, with an adjustable lift inside foot, that is perfect for sewing all kinds of heavy canvas, denim, and garment and outdoor cloth, as well as leather and vinyl projects, up to 3/8 inch thickness, or more. The machine can handle from #69, up to #207 bonded nylon or polyester thread. If you need to sew material that is considerably thicker than 3/8 inch, with thread heavier than #207, you may want to check out our Cowboy line of heavy duty sewing machines, some of which are capable of sewing over 3/4 inches of leather, with a size 415 thread handling capacity.
Also available: Consew 206RBL-18 - 18" long arm, Consew 206RBL-25 - 25" long arm, and Consew 206RBL-30 - 30" long arm flat bed machines.
For information about how a walking foot machine operates and a video of one in action, go to our walking foot overview page.
Call us toll free, at: 866-362-7397 for more information, or to place your order.