Toledo Industrial Sewing Machines
Cowboy CB4500 Heavy Leather Sewing Machine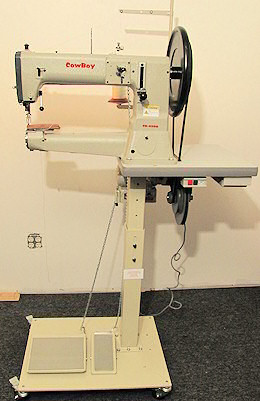 Specifications and Pricing
Model: CB4500
Arm Length: 16 1/2"
Arm Diameter: 3 9/16"
Maximum Foot Lift: 1 1/16"
Max Sewn Thickness: 7/8"
Needle: 7x3 or 794: #18-#27
Thread Sizes: #69 - #415
Bobbins: 7/8" x 1" large capacity
Max Speed: 800 rpm
Max Stitch Length: 3 per inch
Reverses into same holes
Adjustable speed, high torque servo motor
Ball bearing speed reducer
Height adjustable stand on casters
Long neck, high intensity flex lamp
Accessories & upgrades available
From $2395.00 USD, plus shipping
Cowboy industrial sewing machines are built as tough as tanks and are capable of sewing thick leather, cloth, webbing, bioplastic and other materials, with heavy thread.
The Cowboy CB4500 leather stitcher, pictured here (click here for close-up of machine head), is capable of sewing up to 7/8" of saddle leather, with up to #415 bonded nylon or polyester thread.
It has a cylinder arm of 16.5 inches in length; ideal for sewing horse saddles. The feed is performed by a compound, triple feed walking foot, which ensures that all layers will move together. The pressor feet, known as Harness Feet, are made of stainless steel, as are the throat cover plates. A blanket foot set, with teeth on the bottom, is available, instead of, or in addition to the harness feet, for those sewing cloth items and horse blankets, rather than only leather. See more photos of our optional pressor feet and throat plates for the CB3500, 4500 and 5500 models.
Every new CB4500 purchase comes complete with a motor and table, choice of regular or harness pressor feet, one standard throat plate and feed dog to match feet, and a swing-away roller edge guide. Also included are four bobbins and one pack of 10 needles (to match your preferred thread size). We offer available accessories for an additional price, containing our raised and slotted throat plates, additional pressor feet and extra needles and thread.
Uses for this machine include saddlery, leather and bioplastic harnesses and bridles, gun holsters, ammo pouches, gun belts, weight belts, nylon webbing tow ropes, animal collars and leashes.
The Cowboy CB4500 is available in two other arm lengths: 9 inchs (Cowboy CB3500) and 25 inches (Cowboy CB5500). All three of these large stitchers have the same specifications for sewing thickness and needle and thread handling capacity.
The Cowboy cylinder arm sewing machines all feature a strong industrial table, with a powerful servo motor and a speed reducer.
See our complete line of Cowboy sewing machines
Call us toll free, at: 866-362-7397 for more information, or to place your order.
See for our magazine ad for the CB4500 package deal.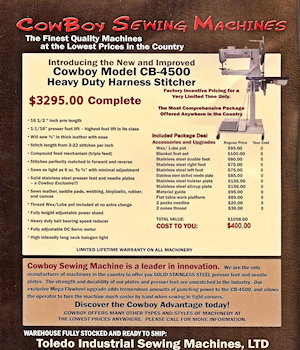 Click on the image to open a large, readable view
Watch a video showing how to thread a Cowboy CB4500.
See more videos of this machine in action, on our videos page.
Photos of the pressor feet, throat plates and edge guide available for the Cowboy CB3500, 4500 and 5500 sewing machines.