Toledo Industrial Sewing Machines
Cowboy Leather Sewing Machines Overview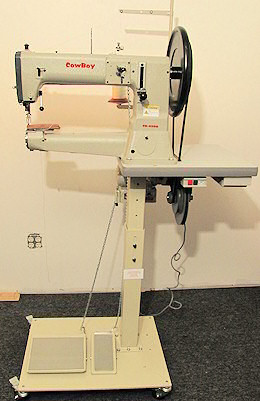 Models Available
Click to see photo or product page
Cowboy industrial and leather sewing machines are built as tough as tanks and are capable of sewing leather, cloth, webbing, bioplastic and other materials. Cowboy machines are available in flat bed, post bed, and cylinder arm models, covering all types of industrial sewing operations.
We stock various models of Cowboy sewing machines, of all designs, covering sewing jobs from light weight cloth, to upholstery, drapery and leather garments, to thick leather harness, holsters, saddles and shoes. Click on the links in the right sidebar to learn more about each type of machine.
The Cowboy CB4500 cylinder arm, super heavy duty leather sewing machine, on the left, is capable of sewing up to 7/8" of harness leather or biothane, with up to #415 bonded nylon or polyester thread.
All Cowboy leather sewing machines are available with or without an adjustable height pedestal stand, with locking castors. They are equipped with a powerful servo motor. Our leather stitching machines also include a ball bearing speed reducer, for added torque and better control at low speeds needed to sew thick leather.
Call us toll free, at: 866-362-7397 to discuss your sewing machine requirements, or to place your order.