Toledo Industrial Sewing Machines
Consew CP206R Portable Walking Foot Sewing Machine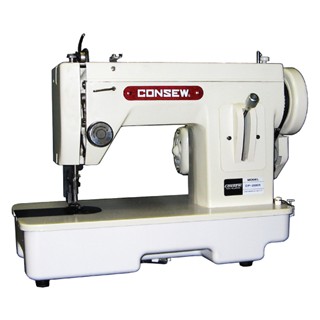 Specifications and Pricing
Model: CP206R
Outside bed size: 14-1/2" x 7"
Flat bed inside length: 7"
Inside height: 4 1/2"
Maximum foot lift: 3/8"+
Max Sewn Thickness: 1/4"+
Needle: #135x16/17: #14-#23
Thread sizes: #46 - #92
Bobbins: Singer Class 15
Max speed: 800 spm
Max stitch length: 4 per inch
Reverse lever for backtack
1/10 horsepower 110 volt motor,
with a speed reducer pulley
Fitted carrying case
Smooth presser feet available
Weight: 41 pounds
$499.95, plus shipping
Portable walking foot machines are built to fill a need for sewers lacking the space for a full size industrial sewing machine, or who are just starting out and want an entry level walking foot machine. The Consew portable walking foot machine is built tough and is capable of sewing light to medium density leather, heavy cloth, vinyl, webbing, and outdoor materials. Due to its low cost, construction and reputation, this machine is in strong demand.
The Consew CP206R stitcher, pictured here (click here for close-up of machine head), is capable of sewing up to 1/4" of compressed leather or other materials, with up to #92 bonded nylon or polyester thread, or possibly #100 polyester jeans thread.
The CP206R has a flat bed with 7 inches of inside clearance; adequate for sewing seat covers, bimini covers, banners, belts, webbing, denim clothing, zippers in garments, wallets, book covers and soft leather garments. The unified stitch lever combines stitch length and direction in an up/down motion.
The Consew CP206R has dual feed, combining a bottom feed dog with a syncronized outer presser foot, which together are capable of sewing as long as four stitches per inch. The needle and inside presser foot move up and down only, alternating with the outer foot.
Unlike drop-shipped machines, every new Consew CP206R purchased from Toledo Industrial Sewing Machines is fully inspected, adjusted, oiled and sewn off before it is shipped to you. It comes with a powerful 1/10 horsepower motor and foot controller and a fitted carrying case. Leather crafters have the option of ordering the machine with smooth bottom feet, to avoid tooth marks on the top grain side. A side benefit of the smooth feet is a slight increase in the thickmness that can be sewn.
Related: Consew 206RB-5 full industrial walking foot machine, with triple feed and higher sewing capacities.
For information about how a walking foot machine operates and a video of one in action, go to our walking foot overview page.
Call us toll free, at: 866-362-7397 for more information, or to place your order.